So I know there are some ubergothy types hanging around on this community... the sort that reek of royalty, the landed gentry of the dark wearing set. And it's NOT just about your looks ['cause you ARE all gorgeous, doncha know!]. It's attitude and mindframe and a few other things.
If you are... the click the picture and check out the community. Is LOTSA fun...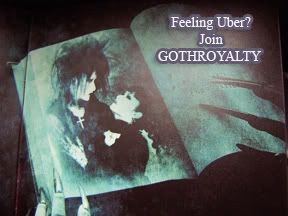 Note that it helps to have a healthy sense of humour. If your tongue doesn't fit in your cheek then make a little space for it *wink*
Many many very interesting folk there.
[and yes, I'm crossposting this 'cause]